56″ Beamsville Round Table: The UNPARALLELED beauty of authentic reclaimed wood!
What is responsible for the unique final look of our tables? –  Emphasizing and making "practical" what is already existing in the wood, rather than over-milling. How can you beat….
1) wood that came from the original forests from Canada (tighter grain than any other)
2) wood that has been extremely slowly distressed by processes completely unrelated to  carpentry; processes related to the everyday lives of real people.. pioneers from the first generation of the nation of Canada
3) avoiding the specific color approach,  forgetting stains and going with natural wood
4) being able to actually use, abuse, spill on, and generally not care about the way you treat your table – knowing that its beauty is protected by a thick layer of UV resistant, hold/cold surface, durable clear coat finishes!
This barn-wood round table we made for a client in Beamsville, Ontario demonstrates these characteristics. See below!
Table: 56″ Round Pedestal – 30″ height – Reclaimed Hand-Hewn Barn Beam Post – Premium epoxy/matte polyurethane finish – Reclaimed Pine Threshing Floor 2″ Top – 6 Ladder Back Chairs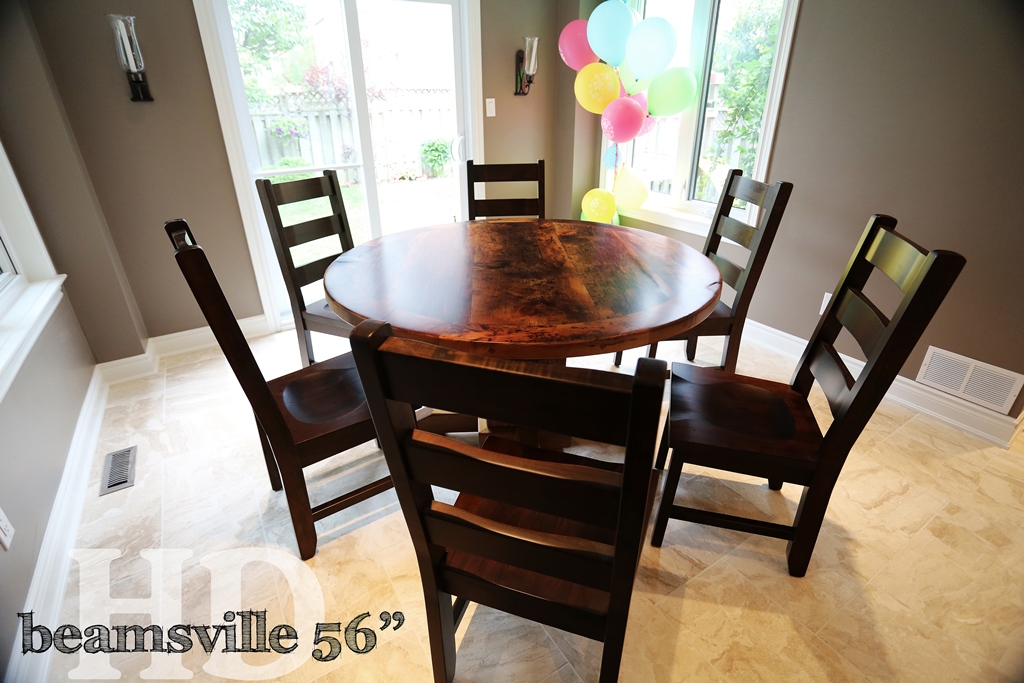 Table: 56″ Round Pedestal – 30″ height – Reclaimed Hand-Hewn Barn Beam Post – Premium epoxy/matte polyurethane finish – Reclaimed Pine Threshing Floor 2″ Top – 6 Ladder Back Chairs