Wednesday, April 17, 2013
This past weekend we had the pleasure of being a part of the 2013 Green Living Show. We were part of the show in 2010 and 2011 as well [not 2012 as the date of the show was my wedding day].
This show is always a pleasure to be a part of. In addition to the events, the exhibitors are a mixed bag from pretty much every industry. The main theme is eco-friendliness; as well as intrigue – companies that are striving to provide something More; in every sense.
My favorite part of this show; and trade shows in general; is not talking to the big companies – in this case Samsung and Ford – but meeting people from small companies. Individuals; or a few people – working very hard to get something they believe in off the ground. Some don't even know if they'll be able to capture the cost of the weekend. That type of risk-taking and drive I respect greatly; as this was the case for me in the early days of HD.. this kind of initiative, I believe, is what keeps our economy going.
Check out these pictures from 2010, 2011, and 2013….
Written by Gerald Reinink, HD Threshing Floor Furniture  – #1 in Reclaimed Wood Furniture – Showroom at 655 Industrial Road, Unit # 11, Cambridge, ON, N3H 5C9 – Direct (cell): 519.379.7972
Here are some pictures from the weekend; as well as a few from previous years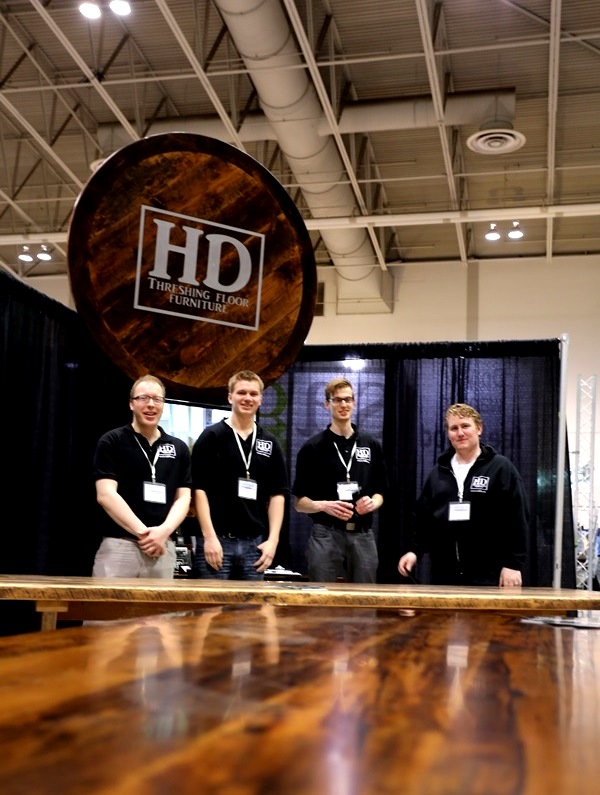 Green Living Show 2013 Direct Energy Centre Toronto HD Threshing Floor Furniture Exhibit Sales Team